Floor Sanding in Fulham Will Increase Property Resale Values
Combine beauty with practicality by calling an expert tradesman for your wood floor sanding in Fulham. Increase the rental value of let properties and the resale value of any premises through floorboards restoration. The benefits don't stop with your purse, a well maintained floor will be easier to keep clean and contribute to a dust free and healthy environment. The natural warmth of beautifully cared for wood enhances any room, introducing an instant air of quality so book this service for your softwood, parquet or hardwood flooring and make the most of your wooden floors.
Six Reasons to Choose us for your Fulham Floor Sanding
Enjoy the security of 24/7 contact with our customer service team - contact us online or over the phone, any time
Arrange for a technician to come to your home or business premises to discuss your floorboards restoration, at no-obligation
Once your work has been assessed you'll be given a quote for all the work involved
Our services produce less mess than you'd expect, because all floor sanding tradesmen use high-end equipment which reduces dust by 99%
Choose al floor sanding company covered by comprehensive insurance,offering fully guaranteed work delivered by Bona-trained craftsmen
Your floorboards restoration work will increase the value of your home, you'll also benefit from a floor that's easy to clean and hypo-allergenic too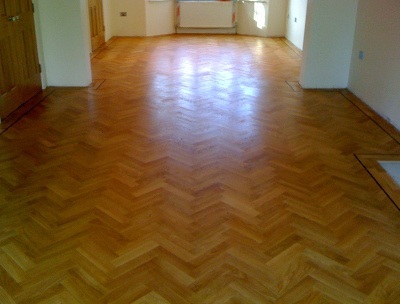 Arrange Fulham Floor Sanding and Repair or Restoration Services Too
Completing your floorboard restoration will include a number of stages. All certified specialists have the know-how and equipment to make a great job of whatever work is necessary. This could include:
Repair and Restoration: Where there are loose floorboards we'll secure them, and we'll check joists to ensure they're strong and solid. If repairs or replacement are needed we'll do this before starting the sanding process. Rusty nails or tacks are removed, and protruding ones hammered flat.
Gap Filling: This is often necessary in older boards where there has been a degree of shrinkage. Small gaps are filled with a sawdust and resin mix, while larger gaps are filled with slices of reclaimed timber of a similar age, colour and quality to your original boards.
Floor Sanding: Once the important preparations are done, the main sanding process starts. We'll work from coarse to fine grain sanding to lift old varnish and proceed to a fine smooth finish.
Floor Staining: Choose the colour for your final finish to fit your planned décor and the style of your property.
Finishing and Floor Sealing: We'll use modern lacquer or traditional beeswax or oil. This final stage ensures that your restored flooring will give you years of beautiful service.
Extending the Lifespan of Your Floorboard Restoration Work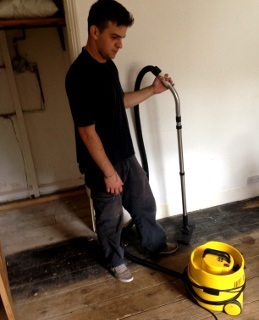 Make the most of your beautifully restored floor by taking some simple measures to protect it from the most common causes of damage:
Scratches: Dust and grit are your floor's biggest enemies - trap them at the doorstep with good quality doormats and use a specialist dust mop to capture grime before it impregnates the surface.
Sunlight: Can cause fading of wood stains. Invest in blinds or curtains and close them in the day to prevent direct sunlight from damaging your floor.
Hard Cleaners: Oil based soaps will build up on your floor, marring the finish. Clean wood floors with a specialist pH balanced detergents.
Get Your Quote on Wood Floor Sanding in Fulham
Your contact options are the same whether you're a private owner, the owner of a commercial property, or a landlord seeking to renovate a rental property. Book your onsite inspection 24/7 by calling 020 3404 4979. The floor sanding technicians work seven days a week, so arrange your no-obligation quote for the day that suits you. When it's easier for you to work online, take advantage of our live chat service. Alternatively, set up a call from us by leaving your details on our contact form, and we'll be in touch.