Stairs Sanding London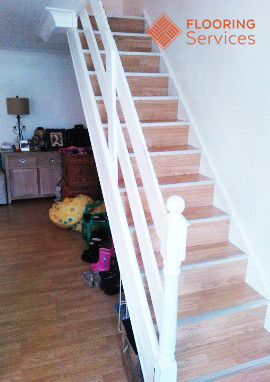 The shape and angles of stairs can make them difficult to strip back if you don't have the correct equipment. Luckily, if you're hiring us to take care of sanding your stairs you get the top of the range dust-free equipment that we use as part and parcel of our service!
We work with any kind of wooden stairs, using three grades of sandpaper to remove the old sealant and replace it with several coats of new lacquer, oil or wax. Our service starts with a no-obligation consultation, allowing you to decide if we're the fully trained professionals for the job!
A Professional Stair Sanding Service
We make restoring your wooden stairs to top condition fast and easy. Our precision stair sanding service is suitable for almost any type of natural or engineered wood - if you have any doubts, all you need to do is call. You'll be benefiting from a service that gives you:
Customer care and support around the clock

Booking slots available

in the early morning, the late evening, and at the weekend

Quotes and consultations

Exceptional value for money

Special deals

on combinations with any of our finishes - we'd recommend varnishing - and other ways to save money when you use us for polishing too!

Insurance protection

and quality guarantees as standard
How Our Stairs Sanding Services Work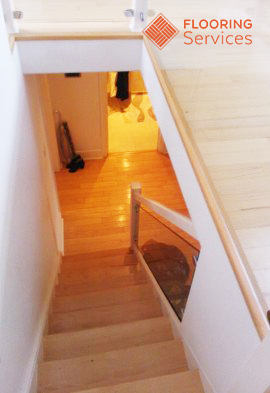 After you've agreed to the quoted price we've given you after your initial consultation, the team will be able to get right to work. We use specialist sanding equipment that's been designed to leave no mess behind, making our affordable stairs sanding services as non-intrusive as possible.
We'll start by performing any gap filling or minor repair work that you've discussed with us, and then use three different grades of sanding to gently remove the remains of the old sealant from your stairs. We then clean the area and put down some new coats of whichever finish you've chosen: lacquer for areas that see heavy foot-traffic, or our wax or oiling options for lighter, more natural finishes.
Making Sanding Stairs Safe
We have a specially trained team who've helped hundreds of people across the London area with sanding their stairs. Careful planning, a thorough consultation and many years of training backing them up makes the team a safe and reliable way to get this important job done. We understand that having a team of tradesmen in your home can be disruptive, which is why we make sure each and every member of the stairs sanding staff in London has been carefully reference-checked, and had their work tested by the experts at BONA, ensuring they're the very best around at what they do.
Making Your Appointment
As we mentioned above, the first part of your appointment will consist of a no-cost, no-obligation consultation with an experienced member of the team. You can fit us in around even the busiest of schedules because we have a wide array of appointment times on offer, and provide 24-hour a day customer support. Simply call 020 3404 4979 now, fill in our short web booking form, or start speaking to one of our live advisers via our chat facility to get in touch with us. We'll be glad to answer any questions that you might have while you're on the line.