Staining Wood Floors in London
Are you planning to restore your wooden flooring, but have started to think perhaps a slightly different hue or shade might be nice to set off the décor of the rest of the room? That's exactly what our option for staining wood floors is all about. We use high quality stains to give your floors a different natural colouration, enabling you to complete the look you've been going for.
We know it can be tricky to give a final decision on the colour you're interested in, which is why we'll test the colours you've selected on a small area, so that you see the colour in situ. You'll also receive a no-obligation consultation so that we confirm everything with you, and observe the condition of your floor before we get started.
Sanding and Staining Wood Floors - Your Choice of Colours
We've got an epic selection of options available for sanding and staining your wood floors. The options for floor sanding and commercial floor sanding let you get your flooring ready for staining with the minimum possible fuss. By using our services in combination with each other you'll be benefiting from some serious discounts, as well as:
Your choice out of a wide array of appointment times
Booking facilities available both over the phone and online 24/7
Spectacular monetary value
Comprehensive insurance protection and quality guarantees
Quotations and consultations with ZERO obligation
Staining Wood Floors - How We Go About It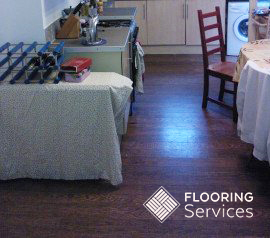 Before staining starts, we'll need to make sure your floor is clear, sanded and ready to receive its new colouration. We'd heartily recommend using one of our professional wood floor sanding services to ensure the quality of the finish is the highest it can possibly be.
Staining wood floors is a careful process we'll test first for you on a small area of the floor so you can confirm it's definitely what you had in mind. After you've given us this confirmation, we'll go ahead with the full staining. The wood floor staining products have been hand-picked from the ranges of BONA and Junkers to ensure quality, and can take up to eight hours to dry.
Hire The Professionals for Sanding and Staining Your Wood Floors
The individuals who'll be performing the professional sanding and staining of your wood floors are consummate specialists, each of whom has had their work tested and approved by the flooring masters over at BONA. This means we've got no qualms whatsoever about providing a full quality guarantee with each and every one of our floor staining services, and in covering all of the work with complete insurance protection. You can find in-depth information about some of our services at the Frequently Asked Questions page.
Get a Consultation Today!
Call us up on 020 3404 4979 and speak to a member of our fully-informed customer care team about the sanding and staining you need for your wood floors. We're very knowledgeable about exactly what we can do for you, and will be more than happy to set you up with a convenient. Out of this consultation we'll both get all of the information we'll need about your floor and what our services for it will entail, and you'll also get a no-obligation quote as well. An appointment can also be arranged via our chat facility or our online form here on our website.