Floor Sanding in Waltham Forest for Domestic and Commercial Properties
If you've got it, flaunt it! Wood floor sanding in Waltham Forest is an ideal way to bring warmth and a touch of class to any property. Choose trained and experienced craftsmen for your floorboard restoration and wood floor renovation in your home, rental properties or commercial premises. In less than a week we'll restore any softwood, hardwood, or parquet flooring. You'll be left with a surface that's a pleasure to behold, easy to care for, and comfortable to walk on. Better yet, this a a great way to increase the rental or resale value of your property.
Get Fully Insured, Top Quality Waltham Forest Floor Sanding
Contact us any time, on the phone or online - our customer service team work 24/7, and they'll be delighted to answer any questions you have
Get us to come to your home or business premises for a no-obligation discussion about your wood floor renovation
Once the floorboard restoration work you're seeking has been agreed you'll receive a comprehensive, no-obligation quote
Floor sanding doesn't have to be a dirty job. The technicians use top-end modern equipment which reduces the dust produced by 99%
Select a floor sanding company that employs Bona-certified floor sanding technicians, and covers all work with full insurance and an in-house guarantee
Get 3 benefits from one home improvement: less housework with your easy-clean floor, a hypo-allergenic environment, and increased property value

Our Bespoke Services for Wood Floor Sanding in Waltham Forest
The work involved in floorboard restoration will vary according to the starting condition of the floor in question. For this reason all floor sanding technicians assess every job before giving quotes. However broken down your flooring is, we have the tools and the expertise to recover it. Your work could include:
Repair and Restoration: This includes removal of boards that are damaged beyond repair - we use reclaimed timer to do this wherever possible. We check for and repair loose joists and remove or hammer in old nails and tacks.
Gap Filling: This gives a much more attractive and even finish. Depending on the size of the gap we may use a resin sawdust mix applied by spatula, or strips of reclaimed wood which are hammered into place and planed for a smooth finish.
Floor Sanding: Typically, floor sanding is completed in three stages - we start with a coarse-grade sander to remove old sealants and varnish, and work through finer grades until the floor is smooth and splinter free.
Floor Staining: Choose a colour that will complement the age of your home and your planned décor.
Finishing and Floor Sealing: Using protective lacquer; natural oil, or hard wax according to the age and type of your wood.
Keeping Your Wood Flooring in Waltham Forest In Top Condition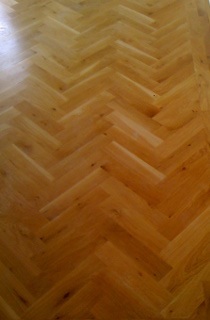 Extend the lifespan of your restored floorboards with proper care. Here's a few tips to help you do just that:
Use the Right Detergent: Oil-based soaps can leave deposits behind which will dull your floor finish. Use a pH-balanced specialist wood cleanser to keep surfaces clean.
Prevent Scratches: Doormats will cut down on dirt and grit which can otherwise impregnate the floor causing scratches. Or in your home, why not make your wooden-floored rooms shoe-free zones?
Protect Stained Floors form Sunlight: Draw blinds or curtains to prevent direct sunlight from causing fading of stained floors. This way, you will keep your wooden flooring's colour longer.
Arrange Expert Inspections and Quotations for Floor Sanding Services Waltham Forest
It'll only take a few minutes to set up your home visit and no-obligation quotation for floorboards restoration in Waltham Forest. Call us any time on 020 3404 4979 and tell us when you'd like floor sanding technicians to visit your home, rental property, or commercial premises. Set up your visit any day of the week via our chat service - just type into the box at the bottom of this page for an instant reply. Alternatively, request a call from us at a time that's convenient to you by leaving your details on our contact form.