Floor Sanding in Camden - Get Your Quote Now
Fashions and trends come and go, but some things have timeless appeal. When you're lucky enough to have a property with wooden flooring, make the most of it. Choose us for your wood floor sanding in Camden to bring the beauty and warmth back to hardwood, softwood or parquet flooring. Enjoy the benefits of skilled workmanship delivered by qualified and experienced technicians. Create an instant visual impact in any room, improve the resale value of your home or, as a landlord, give your prospective tenants that added wow factor that will make your property stand above the rest.
Feel Secure About Your Floor Sanding Services in Camden
Complete this home improvement work to benefit from a hypo-allergenic floor that's easy to clean, and which will increase the value of your property

Call us or contact us online 24/7, and ask our expert customer service team any questions you have and arrange for an onsite visit

Tell us about plans for floorboards restoration without obligation during your on-site consultation

Get a quote from the Bona-certified floor sanding craftsman, with no commitment or obligation on your part

You'll benefit from the investment in top-quality equipment, such as professional quality sanders, which cut down on dust by 99%

Know that your wooden floor sanding is completed under full guarantee, comprehensive insurance, and delivered by professionals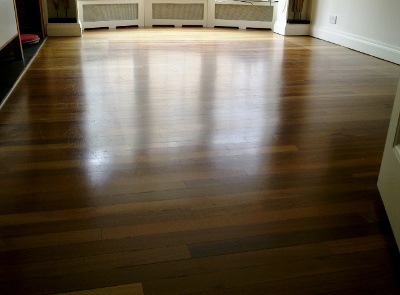 How We Complete Your Wood Floor Sanding in Camden
Every floor is different - when we complete your initial assessment we'll discuss with you the work that's necessary to complete your wood floor renovation. This could include:
Repair and Restoration: We'll start by securing or replacing wood as necessary. Where replacement is needed, we use reclaimed timber of the closest possible match to your existing flooring.
Gap Filling: Smaller holes are filled using a sawdust and resin mix, which is applied by spatula. Larger gaps, generally caused by shrinkage are filled with slices of reclaimed timber, which are hammered into place and planed level.
Floor Sanding: Our main task takes place only when all the necessary preparations to give the best possible finish are complete. We work through three grades of sandpaper to lift all old varnish and leave you with a smooth floor which is ready for the final two stages.
Floor Staining: We'll prepare test patches first so you can pick a stain that brings out the grain in your wood, and a colour that suits the style of your room.
Finishing and Floor Sealing: To ensure you get years of durable and beautiful service from your floor, we'll complete your work by sealing with a natural wax or oil, or a modern varnish.
Preserving Your Wooden Floor for Years to Come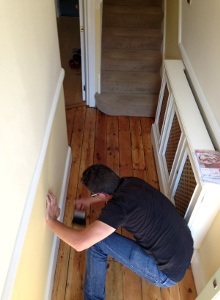 Your floor sanding and renovation work should give you 7 to 10 years of excellent service. Proper care will reduce the impact of the most common causes of floorboard damage:
Cleaner Build Up: Some soaps, especially oil-based products will lead to an unsightly build-up of detergent which dulls wax or varnish finishes. Use a pH-balanced cleanser specifically designed for wood floor cleaning.
Furniture Drag Marks: Always lift heavy furnishings rather than dragging them across the floor. The little extra effort will pay off for sure.
Dents from Vacuum Cleaners: Use a vacuum cleaner with a brush designed for wood floor cleaning. Avoid using beater bars, which are great for carpets but not for wood.
Book Your Quote for Camden Floor Sanding
Organise your site visit and quote for floor sanding in Camden 24/7 on 020 3404 4979. Alternatively, set up your floor inspection through our contact form or by starting a conversation with our customer support team via our live chat service. If you're a landlord we'll come to your rental property, and we'll visit your commercial premises or your private home at any time that suits you and any day of the week. All you need to do is contact us to find out more. We're looking forward to hearing from you.