Choose Us For Expert Floor Sanding in Redbridge
Get in touch with us today, for a first class deal on the leading wood floor sanding in Redbridge. All expert floor sanding technicians are ready to treat your floors to a range of professional services, all of them delivered with skills, experience, and some of the finest technology on the market. We'll treat hardwood floors, softwood floors and parquet – offering services such as renovation and repairs, gap filling, staining, sealing and finishing. Whatever you need, talk to us now! We'll be happy to provide you with a top quality service at our usual rock bottom rates.
Our Redbridge Floor Sanding Services – How it Works
We start by inspecting your floors… with a no-obligation consultation.
We'll offer you a quote on your wooden floors, with no obligation attached.
After that you can sit back and enjoy a first class service – delivered by Bona-certified floor sanding experts, and using only high-end 99% dust-free equipment.
Quality is guaranteed on all of our services, while the floor sanding technicians come with full public liability insurance.
After we finish, you'll be able to enjoy the many benefits of our service – including easy to clean floors, hypoallergenic finishes, and a resultant boost to the value of your property!
We provide all our customers with 24-hour support – our phone lines are always open.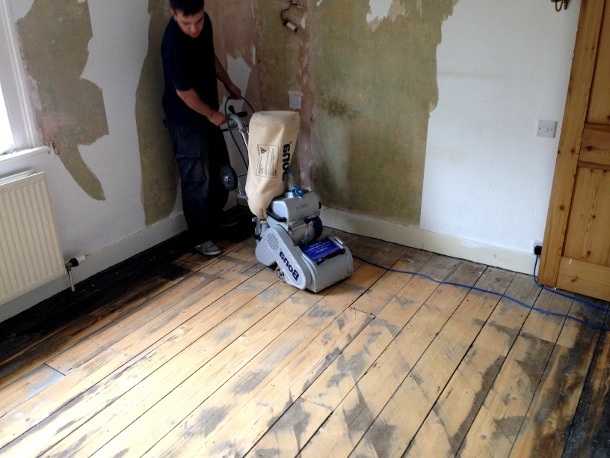 Browse Our Expert Floor Sanding Services in Redbridge
Repair and Restoration: Our full flooring restoration service is able to deliver transformative results to hardwood, softwood and parquet floors – by using state-of-the-art, high-end cleaning tools and techniques.
Gap Filling: Floorboards can often shift over time to reveal gaps between the wood. We're able to plug these seamlessly by using either carefully shaped slivers of wood, or a hard-setting resin.
Floor Sanding: Our regular service for floor sanding will strip through your old, faded, chipped or worn finishes to reveal the natural beauty of the wood beneath. It's also a great way to get rid of splinters, or remove patches of rot.
Staining: This process offers your wooden floors an added level of defence against rot, moisture and sun bleaching. Added to that, you'll be able to choose the colour of your floorboards!
Finish and Sealing: We always recommend a thorough sealing service on your wooden floors. This finishing process includes varnishing, oiling or waxing – and locks in the shine, while offering your floors an added layer of protection against future damage.
Four Tips for Getting the Most from Your Wooden Floors
Dirt and Grit. Protect your floors from the abrasive effects of dust, dirt, grit and other micro-particles by sweeping regularly… as well as placing floor mats to trap dirt away from your floors.
Moisture and Spills. Be sure to clean up all spilt water and other liquids as soon as you can. Lingering moisture on your wooden floors can soon result in a damaged finish, as well as causing wood to warp over time.
Oil Soaps. Do your hard floors a favour, by avoid anything but neutral pH cleaning solutions. Many of the stronger agents on the market can have a damaging effect on the finish of your floors.
Furniture. Heavy furniture is one of the top causes of damage to wooden floors. Avoid scrapes and scratches by always lifting your furniture rather than dragging it – and by placing protective felt pads beneath contact points.
Here's How to Book Your Floor Sanding Service in Redbridge
Talk to us today for your no-obligation quote on wood floor sanding in Redbridge. We'll be glad to send expert advisors out to your home, to provide an on-site assessment of your floors. We'll follow that with an accurate, obligation-free quote. You can call us for commercial or residential jobs, and we'll offer our services to homeowners, tenants and landlords alike. Just send us a message now, or call our 24-hour support line: 020 3404 4979.