Enjoy First Class Floor Sanding in Ealing
Here at Sanding London, we're ready to serve you with the leading wood floor sanding in Ealing! The team of expert floor sanding technicians combine skills and know-how with some of the finest technology in the industry. We'll tackle any kind of wooden floor, from softwoods through to parquet and hardwood floors. Whatever service you're looking for, make us your first choice! We'll deliver first class repairs and renovation, gap filling, staining, sealing and finishing. Just talk to us today, and let us know what you need.
The Process Behind Our Ealing Floor Sanding Services
First we'll take a look at your floors, delivering a no-obligation on-site consultation.
Next comes the quote, based on our inspection of your floors.
All our services are delivered by Bona-certified floor sanding experts… and using top of the range 99% dust-free equipment.
Our services come with a full guarantee – and all floor sanding technicians are covered by thorough public liability insurance.
We'll leave you with pristine flooring, that's guaranteed hypoallergenic, easy to clean, and will also serve to help raise the value of your property.
Our 24-hour support lines will allow you to make bookings, get information or support at any time of night or day.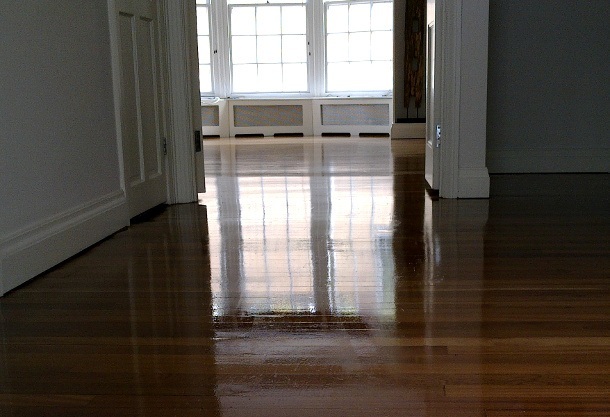 Choose From Our Catalogue of Floor Sanding Services in Ealing
Repair and Restoration: Our thorough wood floor restoration services will transform your floors, brining out the best in hardwood, softwood and parquet using high-end tools and techniques.
Gap Filling: Over time, you may find that your floorboards shift and contract with gaps appearing between them. We'll fix this easily, using a hard-setting resin for smaller gaps – or carefully matched slivers of wood to seamlessly plug the larger ones.
Floor Sanding: Old floorboards can be made up good as new… the advanced sanding technique is 99% dust-free, and guaranteed to rid you of tired, old finishes as well as areas of scuffed or splintered wood.
Staining: We offer a range of different colour choices with our wood floor staining. This process also serves to defend your floors against rot, moisture, and sun bleaching.
Finish and Sealing: Last but certainly not least, we'll be able to apply a protective coat of varnish, oil or wax – locking the shine into your wooden floors, while providing an added layer of defence against future spills and stains.
Pro Tips for Maintaining Your Wooden Floors
1. Dirt and Grit. Sweep regularly to remove dirt, dust and grit from your floors. Otherwise, it can have an effect much like sandpaper on your floorboards! Deploying floor mats will also help to trap these particles away from your floors.
2. Moisture and Spills. Water and other liquids can have a devastating effect on wooden floors, resulting in warping as well as severe damage to the finish. Be sure to mop up any spills quickly!
3. Oil Soaps. By choosing only neutral pH cleaning agents for your floors, you'll be able to avoid the severe damage that can often be caused by more aggressive soaps, chemicals and other products.
4. Furniture. Make sure you're always lifting your furniture, rather than dragging it. Placing felt pads beneath contact points is another handy way to defend your wooden floors against scratches.
Affordable Floor Sanding Service in Ealing - Call Now!
Are you ready to find out how much we'll be able to save you on your wood floor sanding in Ealing? We offer our services to landlords, tenants and homeowners – to commercial premises and residential sites alike. Call for your professional consultation, and we'll send an expert team out to look at your floors. We'll assess the work and provide you with a no-obligation quote on a sanding service. So contact us today! Simply send us a message, or call our 24-hour support line: 020 3404 4979.