Experienced Floor Sanding in Bromley
Welcome to Sanding London – your first choice for high quality wood floor sanding in Bromley. The professional team of reliable floor sanding technicians combine their skills and know-how with access to some of the very finest equipment on the market! We'll deliver fantastic results to a range of flooring surfaces, including all varieties of softwood, hardwood and parquet floors. No matter what you need, we've got it – restoration, gap filling and repairs, sealing, staining and finishing – all delivered for the same unbeatable value.
Our Bromley Floor Sanding Services Explained
The expert staff will come to your home, providing a consultation.
Based on our inspection, we'll offer you a no-obligation quote for the work.
Every member of the staff is fully Bona-certified and equipped with high-end 99% dust-free equipment.
The floor sanding technicians come fully insured against damages, and our services are sealed with a guarantee.
Once we're done, your floors will be left beautifully restored, easy to clean and fully hypoallergenic. You'll see your property value raise as a result, too!
Enjoy fast support, whenever you need it – just call our 24-hour helpline.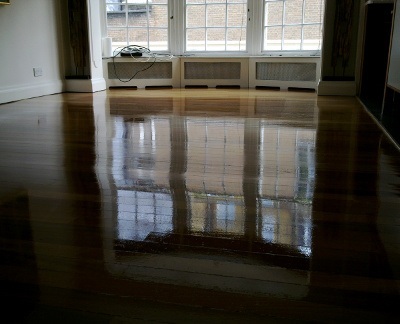 Our Long List of Floor Sanding Services in Bromley
Repair and Restoration: We can provide a thorough and extensive restoration service for your wooden floors – employing a range of techniques and technology to bring out the best in any wooden flooring surface.
Gap Filling: We offer a gap filling service that will seamlessly plug any spaces caused by the shifting and contracting of your floorboards over time. We do this using either a hard-setting resin, or carefully matched slivers of wood.
Floor Sanding: We can grant your floorboards a new lease of life, by delivering a thorough sanding service – our technique is 99% dust-free, and will strip away splintering as well as smoothing any scratched or scuffed finish.
Staining: We provide a professional floor staining service, that allows you to pick complimentary colours for your floorboards. More than that though, this process also serves to defend your wood against sunlight discolouration, rot and moisture.
Finish and Sealing: This final layer of finish will help to protect your floors for years to come – with a protective sealing layer of varnish, oil or wax.
Some Handy Tips for Maintaining Your Wooden Floors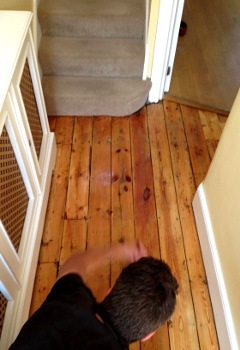 1. Dirt and Grit. Dust and dirt particles will act like sandpaper on your floors. You can counter this by sweeping regularly, as well as placing floor mats to trap grit away from your floors.
2. Moisture and Spills. Avoid warping and discolouration of your wooden floors by following a no-tolerance policy with water and other liquids. Make sure you're mopping up spillages as soon as they happen.
3. Oil Soaps. Certain cleaning products can contain aggressive acids that'll cause untold damage to the finish of your floorboards. Avoid the risk, by using only neutral pH cleaners on your floors.
4. Furniture. Avoid denting or scratching your wooden floors, by lifting furniture to move it – and never dragging it. You could also place felt pads beneath contact points, to further lessen the impact. This is one of the easiest way to keep your wood flooring from scratches.
Get a Quote on a Floor Sanding Service in Bromley
Get in touch with us today, to receive your own no-obligation quote on floor sanding in Bromley. No matter whether it's a commercial site or residential property, we'll be happy to hear from you – and we can work with homeowners, tenants and landlords alike. Call today to arrange your on-site consultation. Every staff will assess your job, before providing an accurate quote – no charge, and no obligation. Just send us a message today, or call our 24-hour support line: 020 3404 4979.